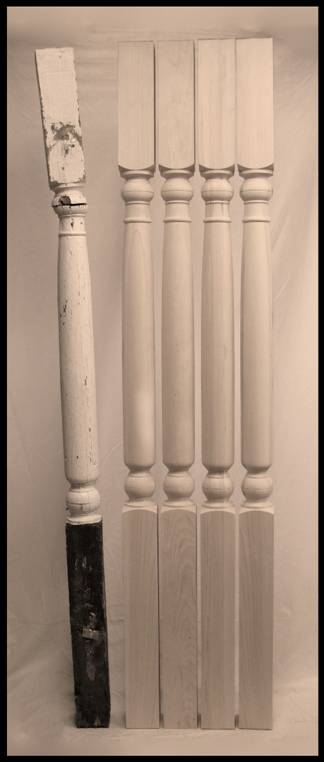 CUSTOM WORK IS OUR SPECIALTY! Our custom posts will be approved by the historical society when renovating or restoring your Century home. We can duplicate your original post with a few photos and measurements.
We can also duplicate your newel posts, balusters, spindles, or finials.
How to Measure your Original Post
If you would like to duplicate the pattern of an existing post, simply hold a tape measure at the top of a post and drop it down the center of the post to the ground. Without moving the tape measure, (this part is crucial) take several photos straight on (not on an angle). Make sure that the numbers on the tape measure can be easily seen. Be sure to add some of the diameter measurements by using calipers - as shown in photo below. The more measurements you include, the more accurate your posts will be.
Please watch this video on how to measure your post
A one-time only custom layout fee applies on custom orders.
$95.00 for a custom template of a porch post or column.
$60.00 for a custom template of a newel post.
$40.00 for a custom template of a spindle or table leg/kitchen island leg.
Fee is only applied once and we keep the template on file should you ever require more turnings. 
Examples of Duplicating Custom Patterns
Duplicating a custom spindle
Porch Column Duplication
Porch Post Duplication