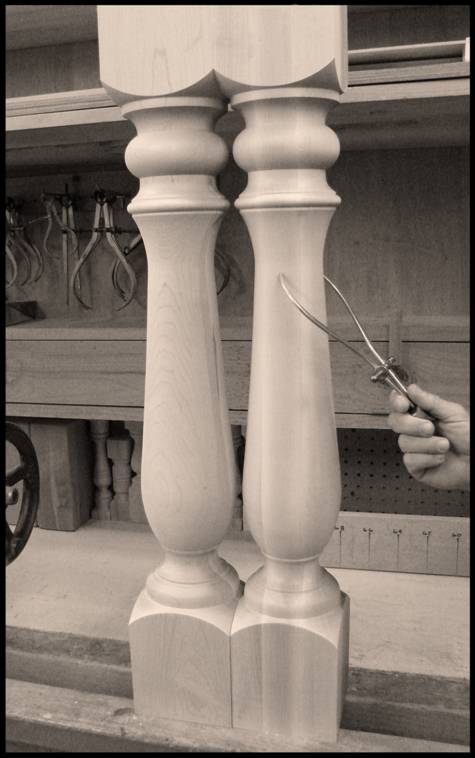 Kitchen Island Legs
Century Porch Post Inc. offers a large selection of kitchen island legs in a variety of wood types and sizes. These legs can be split in half / quartered, and added to a cabinet face or they can stand on their own to support a countertop or bartop. We offer large diameter legs for when your project calls for an oversized turning. Our high-quality island legs are fine sanded and ready for your finishing. Other sizes and wood types are available, contact us for a quote.
Splitting & Quartering Services
We offer Splitting and Quartering Services for just $7.50 per kitchen island leg.
The photo below shows full, quartered and split in half.
Stock Kitchen Island Leg Patterns - all patterns photographed are 3 1/2" x 35".
STOCK PATTERN PRICE LIST
All patterns have the same price
| | | | | | | | | | | |
| --- | --- | --- | --- | --- | --- | --- | --- | --- | --- | --- |
| Sizes | Clear Pine | Poplar | Red Oak | Soft Maple | Hard Maple | Alder | Cherry | Hickory | Mahogany | Walnut |
| 2 3/4" x 35" | $69.00 | $72.00 | $80.00 | $74.00 | $88.00 | $77.00 | $95.00 | $87.00 | $93.00 | $99.00 |
| 2 3/4" x 41" | $73.00 | $77.00 | $86.00 | $78.00 | $95.00 | $82.00 | $104.00 | $94.00 | $101.00 | $108.00 |
| 3 1/2" x 35" | $77.00 | $92.00 | $102.00 | $86.00 | $116.00 | $94.00 | $123.00 | $110.00 | $120.00 | $129.00 |
| 3 1/2" x 41" | $81.00 | $98.00 | $111.00 | $93.00 | $127.00 | $102.00 | $136.00 | $121.00 | $133.00 | $143.00 |
| 5" x 35" | $107.00 | $118.00 | $158.00 | $125.00 | $181.00 | $125.00 | $201.00 | $173.00 | $192.00 | $110.00 |
| 5" x 41" | $117.00 | $130.00 | $177.00 | $139.00 | $204.00 | $142.00 | $227.00 | $195.00 | $217.00 | $237.00 |
| 6" x 35" | $131.00 | $146.00 | $202.00 | $156.00 | $223.00 | $179.00 | $230.00 | $222.00 | $248.00 | $272.00 |
| 6" x 41" | $145.00 | $163.00 | $229.00 | $175.00 | $265.00 | $202.00 | $297.00 | $252.00 | $283.00 | $311.00 |